I know, mum wouldn't read my blog...
but I dont care...
I want to express my feelings to her


Mum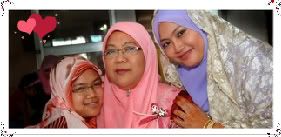 It was my first time NOT celebrating Mothers Day with my beloved IBU
It was soo sad as what I can do is only sending her SMS as my hp adalah bengong..
nasib baik dah call dia on Saturday..telling her about our new house..
and wishes her on advance
well,

I send her this sms said..
Happy Mother's Day, Ibu.
Thanks for always being there for me.
You are the best mother in the whole wide world.
I love you so much
And she replied this...
Tq 4 the beautiful words, u made my day.
Hope you will be a mother soon.

those words were so touching for me...and I actually cried once I read it..
why I'm crying??
No...its not because of the "be a mother soon" thingy ok!!!
I cried because I'm not be able to be there right beside her
like I used to do years2 before...
celebrating Mothers' Day with Ayah, Kila, Naufal, Naqib, An & Mum..

this year...I'm with in-laws
not really celebrating as the weather was so damn hot
it burnt my skin... and make my life soooo boring
so sad... I want my MUM!!!!!

I know...
sometimes I could be the pain in the ass daughter..
my stiff-necked, keep arguing and sometimes sluggard-ness
drives her crazy...
but of all my wrongness to her...
she still loves me a lot and trying to deal with this rebellious teenager she have..
she's my angel...she's my precious present...
she's my beautiful mother...
I love her no matter what...
I would do everything I can for the sake of her happiness
Friends...
We only have One Mom, One Mommy, One Mother in this World, One life. Don't wait for the Tomorrow's to tell Mom, you love her

Mom,
I loved you yesterday, I love you tomorrow and everyday.
You were there for me on my first day of school,
to hold my hand and give me courage to go.
You listened to me when I needed to talk,
you talked to me when I needed to listen.
You let me grow and learn from my own mistakes.
You never left my side when I was feeling down,
I knew you would be there to pick me up.
I wish there was a way I could repay all the things you have done for me,
but there's nothing great enough to repay the greatest mother of all.