Selamat Hari Raya Aidiladha...
10 Zulhijjah...
wake up so early today, eventhough its not a working day....
helps mum with cooking...
our menu for today is:
Nasi Beringin
Ayam Masak Merah
Sayur Suun Campur
Lampong goreng...
simple...but deliciousssss......
I dont hv the photo as Ayah is so kelam kabut to eat...as usual...
he plan to sembahyang raya at Masjid Negara...
well...nothing much to blog about...
but am so happy...today is a holiday....
so as tomorrow...huhuhuhu...
best2...
Selamat Hari Raya Qurban, guys...
makan daging tu jgn luper org sini...huhuhuhu
------------------------------------------------------------------------------------------------
UPDATED!!
After lunch...we went to Enchek Fiancee's house....
pay a visit as masa Hari Raya aritu, tak sempat nk dtg ziarah kan...
so...on the way to KS... an incident were happen between dad n another kancil...
the driver is PARIA okey...mmg sgt paria...
he intend to potong belah kt double line and he was at the right yer? tak ker sgt bodoh itew???
when my dad honk him, he get angry and slow the car until we passed by and he yelled
"Hoi!! Jalan bapak kau ker???" to my dad...
what an idiot man!! Kau yg buat mcm jalan bapak kau...
pg balik India la keling oii!! sial tol!!
no wonder ader HINDRAF2 bagai...sgt menyusahkan org key...tak tahu diuntung sungguh!!
back to Hari Raya story...
we arrived at Azaly's house at 3.15pm... duduk2 kejap, dh dijemput mkn lg...
ada Nasi Impit, Sup Daging, Spagetti, Meehoon, Ayam masak kicap, rendang ayam n etc...
yeah...diHari Raya Aidiladha juga ada ayam ok...
coz my fiancee cannot eat MEAT.... he is so allergic to MEAT...
then, dijamu plak dgn barbeque... ayam bakar, kerang bakar and ikan jacket bakar...
enchek fiancee's recipe... special recipe from him...
then, org sibuk2 meratah makanan... both of us melarikan diri kt ruang tamu and discuss about our honeymoon plan....
urm...nak pegi maner ek? Karambunai ker Langkawi?
still in consideration....
~my sinus is killing me all the time!!~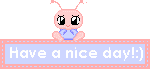 LET'S CHILL AND HAVE A DRINK!!
I'M A MAY GIRL!!