We went out...to Cineleisure Damansara...
wanted to watch THE HEARTBREAK KID...
the synopsis:
Eddie is forty, owns a sporting-goods store, and is still single. After watching his ex-fiancée walk down the aisle, he meets Lila, an environmental researcher, who seems too good to be true. Pressured by his father and best friend, Eddie pops the question and marries Lila after only 6 weeks. However, as he almost instantly discovers, his new bride is a nightmare with more baggage than he can handle. She's immature, foolish, a monster in bed, owes a tremendous amount of money to various sources, and as it turns out, is only a volunteer and doesn't actually have a job. While on their honeymoon in Cabo, Eddie meets Miranda, a down-to-earth lacrosse coach who is visiting with her family. Sparks fly, and Eddie falls for her. Now comes the tricky part of breaking off his marriage to crazy Lila, all while keeping the truth from Miranda about why he's in Cabo in the first place.

(~taken from TGV.com.my~)



It was a hillarious movie....however, the critics doesnt like this movie... but personally, it was ok-ok jer lar...Ben Stiller can be more hillarious than that...
I love her in the movie...
She's very beautiful and down to earth, Miranda... her looks is so unique...love her looks more than Lila's aka Malin Akerman
Nothing wrong with her actually...but her looks just a typical goldie hollywood girl's look...not very unique...but she's pretty too for a Canadian girl..
so....our movie is at 4.55pm...so we when for lunch at ASAM PEDAS at The Curve (street) and have a set of Asam Pedas with Fish, Sayur Campur, ice lemon Tea and Lemon Ice for me...
the asam pedas was very nice and tasty... unfortunately, kedai tu tak rmi pengunjungnya...maybe sumer org2 yg bershopping kt Curve lebih tertarik nk mkn TGI, Thai food or any western food dr mkn nasik2 yg blh dpt kt umah...
but hey, the food was really2 nice...u guys should try it...here's some of the photos...and the ambiance is really nice also...at least for me...mcm dlm garden...huhuu
I love the 'taman' atas kepala...
Since it was near to Christmas..the deco in The Curve was beautiful... I love Christmas deco...so colorful n full of bling2...hahahaha...the YAMAHA house deco is also magnificient... i felt like I was at somewhere at North Pole...
and we also bought some stuffs at MJ and IKEA... there are people singing at IKEA..carol song...I loikke the song...and the crowd at IKEA is so horrible...rmi giller org...everything is on sale...n afterall, IKEA kn...mana pernah takder org...huhuhu...but we still manage to buy some stuff...like a new Weighting Scale... a frames for my convocation photos, a vase, and a pink box for me to put all my hantaran deco stuff...lain? tak tau nk beli apa, rmi sgt org n my feet is hurting me so bad...
at MJ, enchek fiancee bought a set of Burberry fragrances for my hantaran... here it is...after sale is RM330...with extra miniature and sample...the salesgirl (or is it salesman? I'm confused...) is so nice and sgt good in customer service...
an elegant floral fragrance. 1.7 fl.oz. eau de parfum. made in france.


top notes: rose, clementine and honeysuckle.
heart notes: tiare flower, jasmine and peony.
dry down notes: sandalwood, veil of musk and patchouli.

the parfum, Burberry London, shower gel, lotion, miniature and samples..

it comes with a cosmetic bag also...
actually, I prefer Polo Lauren Style, the smile is so sweet and based on flower smell, modern floral blend wrapped in a soft blanket of suede, sensual musk and sleek woods....and of course, it comes with PINK bottle...I thought as my hantaran will be in PINK color (from him), I want the parfum to be in PINK also..unfortunately, he doesnt like the smell...so, as the paying man, I hv to agreed with Burberry.....ok la bau dia....nasib baik sedapp...
that...I was forced by enchek fiancee to watch him play futsal which I hate the place...n the guys...erk...apasal sumer2 selamba2 jer bukak baju dpn org ni??? then, finally I just stayed in the car, listen to the radio and sleep...huhuhuhuhu...
wajah org penat menunggu tunang main futsal...

~please ignore the date on the photo as I'm so lazy to reformat the date on my camera...~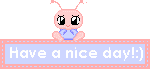 LET'S CHILL AND HAVE A DRINK!!
I'M A MAY GIRL!!