I was in the office this morning.... typing some work while singing the Enchanted song....
suddenly, Kerispatih start singing on my hp...I just received one sms...
it was from mum...n she said...
"Awak ada simpan alamat vet yg kwn awk bg dulu. Abu ni nmpk mkn teruk, Kila dh nk nangis ni, tk thu apa nak buat" - 11/12/2007 12.11pm
immediately called mum and ask what happen...and 10 min after that, I'm heading back to my house...yup...saw Abu, our cat has looked so pale n weak...
so, we went to Pusat Kesihatan Haiwan, Cheras at 2.50pm and registered....
taklah rmi sgt org...but a bit annoying la bila org asyik dtg2 tanya...
- kenapa kucing ni dik...
- kenapa balut dgn plastik ni?
- adik bg mkn apa kt kucing ni??
and all sort of questions... that sgt penat utk dijawab ok...
yg plg mcm setan is...when 2 men keep asking n teasing us...
"Kenapa kucing yg sakit, tuan yg nangis?"
I mean, WTF??? why do u guys care? kitorang ada susahkan korang ker? bodo tol la...
keji tau tanya mcm tu pada my sister...she loves the cat very much... of course she would cried when my aunty said that the cat might die... amat menakutkan ok!!!
owh ya...b4 that...I need to tell first what exactly happen to Abu...
we think he ate a lot of his food.... when on last Friday, his penis...penis ke ek? urinary part kot... starting belading and he became weaker n weaker... thats why we have to balut him with plastic to bring him to the vet...
so...tak smpi 10min, kami dipanggil msk as the doctor dh perasan dulu apa dh jd dgn Abu n dia sgt kesian dgn Abu... b4 that one aunty has told us...that we shouldnt give our cat food like Whiskas and Friskies as those kind of food has preserve and not very good for cats...
erk...so why did they still sell those thing if its not healthy for cats? pelik...
mls nk citer pnjg...look all the photos and the video that I've recorded...
oh ya...the fees was so...expensive...all together with the custom food is RM 155...
but, ok lar...private clinic would charge us a single amount RM500 only for the treatment...
this RM155 is include the treatment, vaccine, collar, medicines and food.
My sis hold him tight...she's crying actually, so tak mesra kamera...
Abu sedang diberi suntikan bius...sabar ye sayang...sket jer...
sessi beramah mesra dgn vet...n smbl2 tgu Abu bertindak balas dgn bius...
the vet sumbatkn sesuatu into his urine area...(penis)
time vet jahit the wire to Abu's butt
Kila helps the vet to squeeze Abu's tummy..
Finally, stlh senior vet campur tgn n suntikkan air cuka, barulah the blood nk mencair n keluar...unfortunately, the pee still degil lg...
kesian Abu...hopefully dia ok lps ni....we have to go to the vet straight these 3 days...
for continuos checkup, water drift and assesment...
10 hari kn pki itew collar leher....sgt kelakar tgk gaya dia static jer dgn collar tu...lgsg tak mau gerakkan bdn...masih sakit lg agaknya...
nk gelak pon ada...tp kesian...vet td ckp, sakitnya mcm klu kita manusia sakit, bleh smpi cabut pokok...uikkks....MAHA SAKIT tu....
well, get well soon Abu...so we can play together again...
urm...td ms dlm klinik vet itew...ada sepasang burong tiong yg bole interact dgn manusia...they actually can talk like human and understand what human said...amazing tol...tp mls nk pg dkt as I'm worried about Abu more than trying to busy body other people's pet like some people...annoying tau...
Abu stlh dipasang collar...
~guys...please pray for Abu...semoga dia cpt sembuh n blh pee-pee lg mcm biaser...jgn bg dia mati...uwaaaa....~
p/s: sorry if the video not so clear..took it with my hp...Nokia bodo2 jer...huhuhu...I forgot to bring my camera with all those chaos...kelam kabut nk bwk sikecik pg hospital...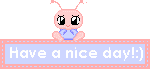 LET'S CHILL AND HAVE A DRINK!!
I'M A MAY GIRL!!