I used to love photography since I was small...
no...not the passion kind of being a model yer....
I want to be a famous photographer...
n if u can see back my school identification card which they called Kad 001 for students tu...
every year, my ambition is to be a photographer...ask the teacher...hehehe
dont ask why I didnt proceed the ambition ok...eventhough I do carry my camera everywhere n took photos of anything that I think its cool n beautiful...
despite of all people said that i'm a camera freak la kn...
so, I'm decided that I want to learn more about the photography techniques...
then I joined one forum...
Photo School
...where I think I can learnt a lot from a photographer that I always adore and always browse his blog, fotopages and etc....
he is
SAIFUL NANG
... I adore his artwork very much...I amazed with his talent...
dulu, I did thought that I want to pursue my ambitions and take some photography or art course in UiTM... however, my parents doesnt agreed with that kind intention...
above photo's...all are from his FP n website...
Candid Syndrome
...
browse the fp n website and saksikan sendiri keunggulan hasil kerjanya...
mmg tak jemu2 tgk gmbr2 itew...as I am very interested on those kind of photo's...
scenery....stuufs, food and weird thing...oh ya....and also LITTLE GIRL....
I even thought to consider to choose his company / crew to be my photographer for my wedding day...
my work? huhuhuhu...not so GAH untuk dipersembahkan yer...its only for my collections...
still have to improve my knowledge...
~budak baru belajar~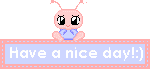 LET'S CHILL AND HAVE A DRINK!!
I'M A MAY GIRL!!