I always nervous...chickening...
pastu muka tak reti la nk cover kn...smpi interviewer td directly tegur my nervousness look...
huhuhuhuu... apa nk buat? dah tabiat...thats my weaknesses...
btw, finally, phewww..... finished the interview...
ok-ok lar...
the essay part was quite tough...
3 questions answered in 30minutes...
the first question is a fact question... cant really remember the soalan...sort of like...
what is the Small Medium Enterprise challenges in retaining and skills upgrading, and recommend some solutions to overcome the challenges...
susah sbb I hv been studying abt training and HR last nite...and only a bit about SMEs introductions...bengongla.... napa la tak expect soalan tu yg akan kuar!!!
then, the translation part were not really tough...but as usual, Eng to Malay is quite challenging...
as nk kn carik ayat BM yg proper n sedap didengar...
the interview...a bit intense at first...the Mr interviewer looks really scary at first...but finally, he is so funny and friendly...
unlike the Mrs interviewer... she looks friendly and mesra...but the reality is she is a bit banyak tanya soalan and always like to test and squeeze my words...huhuhu...urmmm...its ok...I managed to get through the obstacles...
cross my finger... hope Allah gives me HIS bless and I can get this job...
WISH ME LUCK GUYS!!!
~owh...how i wish I can get the job and quickly quit from this company!!~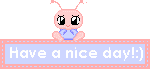 LET'S CHILL AND HAVE A DRINK!!
I'M A MAY GIRL!!