she used to be my favourite aunty....we used to be very close...I love her kids...especially the youngest....I was so kamceng with her elder daughter...despite of her arrogant and berlagak attitude...I still love her kids...they are my closest cousins of all....but what they have done to my "lurus" brother last nite...is
so damn terrible
...
unforgiveable!!!
I'm done with them!!!
now...me, my siblings were cursing them of what they hv done to one of us...
so mean...tak berhati perut n takder OTAK!!!
sia2 arr bljr ada master bg kalo mcm ni....tak gune tau tak? ok...let me tell u the story from the scratch...
yesterday evening, she came to our house to fetch granny and the girls....at the beginning, she already showed her 'besar kepala' by sending her elder daughter to the house and help Tokne with her stuff...
dtg mcm mintak api, org Johor kata
...then when mum insist she come into the house, she entered with that sour plum face...and all the sarcastic words to my mum...her older sister!!!luckily mum is not the kind of people who will give a damn n fight back...
she told my bro that she has sent the other cousins..(boys) to
Sunway Pyramid
for ice skating...she offered An to treat him the ice skating as the other boys request An, their fav cousin to join them... mum doesnt agree as she has bad feeling about An went there late in evening...but looking at An's face that eager to join his cousins... and the auntie keep pujuk mum to let An go... finally mum agreed....
cut the story short... it almost 11pm...and An is not home yet...mum n dad assume that the auntie will send An home, so no need to worry An being late...everybody went to sleep....
around
3am
, mum woke up to continue her work
(she marks the english paper for SPM).
.. she read An's sms, check his room and
An is not in his room at 3.00 in the morning?
she then immediately call her son... An told her that he is on his way home...he is at mum's ex-school at Wangsa Maju...so mum waited for him and nvr asked any further...
4.10AM
- An entered the house, didnt took off his shoes...walk slowly with the tired face and muka yg sgt2 pucat and sat on the sofa... when asked what happen....he told mum his story with a slow and tired voice...n mcm mamai2, khayal n meracau2..
poor An...they finished the ice skating at
10pm
... the idiot uncle came to SP with his
stupid MINI
to fetch all the 4 boys...
MANA NAK MUAT SUMBAT SUMER2?
so he decided to take the 3 boys and sent them to Klang first
(which is SOOOO STUPID!!)
and then fetch An...An thought that he want to sent him straight to home as it is almost 11PM... unfortunately,he was
left alone
by his cruel uncle at Komuter Subang at
11.45PM.
...komuter apa lg yg ada time2 mcm tu? last train is
11.17pm
, if i'm not mistaken la...refer to this timetable (2nd part)
Pelabuhan Klang - Sentul
this brother of mine is
a bit lurus and berat mulut
ok...so, dia tak berapa boleh nk berckp utk minta uncle bodoh itew menghntr dia smpi ke rumah...that was his mistake...and i hope he learn from the mistake...
so, with the money he has (which is so little)... he took the cab to KL Sentral...again, intend to took the LRT..and again... NO LRT after 11.25pm... refer to
this table
, no LRT to Wangsa Maju after 12 AM..
with no money, tired, clueless, bateri HP kong lagik.... by hook or by crook, he has to walk home..no bus operate at 12AM...
afraid if mum will get worry and angry abt him being so late...he sms, asked dad to fetch him...unfortunately, everybody has went to the dreamland...left An alone walking all by himself..
perjalanan yg sangat jauh berjalan kaki dr
KL SENTRAL to TAMAN MELAWATI


mum has cried with the incident and dad was so furious and angry with what had just happen... but knowing mum...she doesn't want the issue to be any longer and she has warn me for not fire the responsible person...mcm tau2 plak aku nk sembur!! mum doesnt want to create a scene, especially a fight among her siblings...let it be...and as for me, I am totally didn't agree with mum...smpi bila ntah nk senyap jer...
kasihan adikku itew...tergamak ibu saudara sendiri membiarkan dia mcm tu...WTF la ini manusia... my parents nvr done that to her kids slm ini...mintak tolong amik n hntr...they sent without excuses...hntr smpi dpn pintu kolej lg...bukanlah nak mengungkit..tak kisah sumer tu...but...why on earth you did that to your own nephew? your sister's kid?
ok la if you consider that An is an adult and a boy... he can manage to find his own way home... but if u really
A HUMAN
that actually have
HEART
, u will look him as ur nephew..
u r the one who offer that boy and pujuk2 my mum to let An go to SP with the boys... its ur responsibilities to handle everything!! that boy is sick..you know that... and I'm sure you know his attitude...with no $ (he didnt ask mum for extra money as he thought his aunty will send him home), and
LATE NITE??
where is that damn so-called intelligent brain??if anything bad happen to him on his way home walking alone...
what do u think will happen to MY MUM?
anything could happen to that boy ok... dgn mcm2 mslh zaman skrg ni, all the HINDRAF and PATI2 yg tgu nk mengganas... somebody could come to him, stabbed him with long shiny rambo knife...rob him, kill him and then throw him at some unknown hutan... anything could happen..which is thank god it doesnt happen!!
what if I did the same to one of ur children? how do u feel if I treat ur children like crap like what u hv done to my bro? I know that u and ur hubby always envy with us...envy with my mum is the major problem of yours...always find our weaknesses... especially mum...we know how jealous ur hubby with my mum...dendam apa ntah yg tak pernah habis tu...and we also know ur backstabbing words about my mum to Mak Chu...luckily, mum is so kind-hearted to even bother about those crap of what her sister has made...
if anything happen to him after this...mana la tau dia sakit ker...meracau2 nitemare ker...etc..I wouldnt forgive u for this!!
U R NOBODY TO ME ANYMORE!!!
I hv throw away the relationship with my cousin dad's side... dont make me start with mum side as well yer...

We might fight and have arguments with each other...but siblings is still siblings...
nobody can put shit in my siblings shoes... nobody can make fool of my brother.. nobody can do that...we have each other...our bonding is so strong... only us allowed to make fool of each other...only us allowed to do crap to each other..
NOT OTHER PERSON / PEOPLE!!
u have to face me if anything happen to my brothers and sister...I would not hesitate to hate you or give back what u hv gave to us if u mess up with my siblings!! Remember that....

oh ya...if my cousin happen to read this...
I'm sorry.... no offense... I'm not angry to all of u...I'm just angry with the responsible person...
I cant talk to ur parents about it..so I wrote it in my blog....to let go all the hatred that I feel now... nk mengurangkan rasa marah, benci n geram jer... so I would not sarcastic and fire ur parents...


guess...which one is him?


he's the one who cover his face with the book...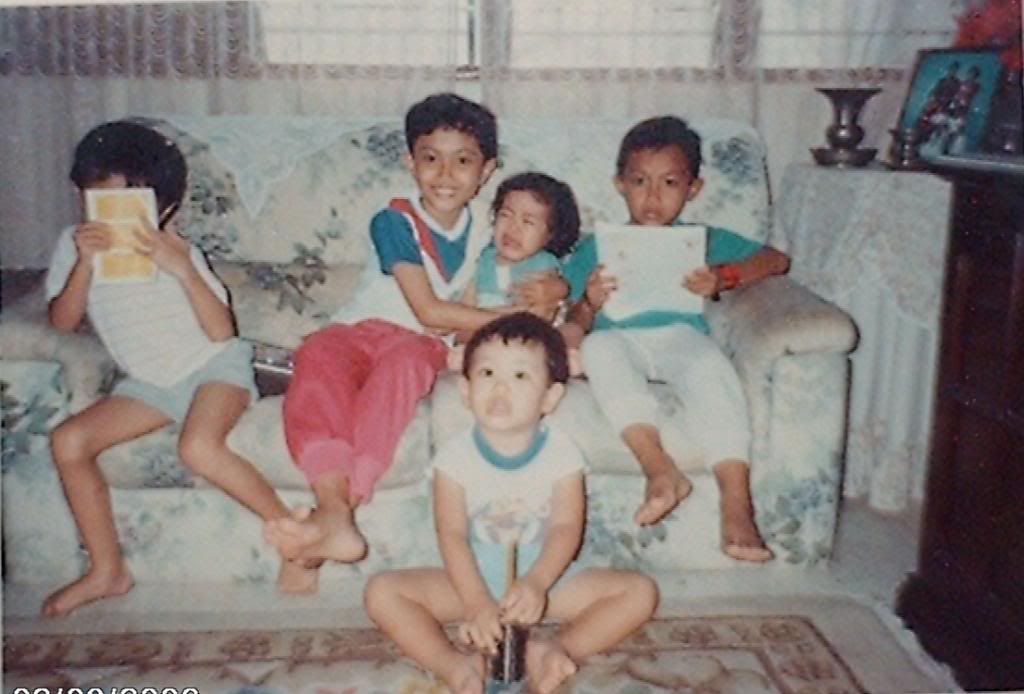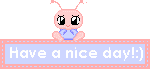 LET'S CHILL AND HAVE A DRINK!!
I'M A MAY GIRL!!