I have a job interview tomorrow...
with
Pembangunan Sumber Manusia Berhad
...
the lady called me this morning and asked me to go to the interview tomorrow at 11am.
I am so damn nervous...all the tok nenek butterflies were flying in my stomach...
I am so weak into these stuff...interview n meeting peopls that I dont know..
not that I'm too reserved person or kera sumbang and all that...
I'm just have a tiny weeny problem of confidence...
certain time, I will be soo nervous and gelabah gila2...
kdg2...terlebih peramah plak...otak tak centre tol...hehehehe
I'm trying to find all sorts if informations about the company...
its a Government, Local Based Company...a corporatised body under the Human Resources...they are the trainers coordinator for all SMEs in Malaysia
I cant find any of Labor law info from the Wikepedia...apa la punyer internet encyclopedia...
tak membantu tol arr
oh ya...about work...
my sister just finished her SPM...and she intended to find some simple job...
she was bored to death staying at home...
unfortunately...heard from all her friends' experiences...
these employers...such as Isetan, MNG, BCBG, MAX n etc....
they tend to discriminate those 'bertudung' girls...
thru my own experiences back then..also the same...
these idiot people will ask... "boleh tak kalau keje tak payah pakai tudung?"
WTF?? do u really want to tanggung the girl's dosa?
c'mon laaaa.... ingat girls yg bertudung ni semuanya leceh2 ker?
asal bertudung jer takleh buat keje?
atau mungkin sbb the girls wears that holy thing, they cannot
SEDUCE
the customers to buy ur product?
BULLSHIT
ok...
these girls want to find some side income...they want to earn their own money to pay for their expenses at uni in future...and they also want to gained experiences before they go to another step...
bodohla diorang ni...kesian tau utk girls2 yg bertudung nie...but still, ada gak la yg dpt n berjaya dpt keje...tp berapa org sgt? maybe sbb dirog tgk girls yg bertudung ni too educated and they afraid if they hire them, they will not stay longer in future and of course will troublesome them by finding another worker la kutt...
apa2 pon...I'm still shaking n nervous with my interview tomorrow...huhuhu...wished there will no discriminate issue also tomorrow...hahahahaha...
~Abu is still not very well.... brought him to Vet again today as yesterday morning, the bladder tube has been fallen out from his penis...and today, the Vet said that his bladder has getting worst and perut dia dh bengkak...sian Abu...hopefully, after this he will recover ASAP...Kila has to observe him more often and make sure that he gets all his medicine and eat his SD food ...He's having this
desease

Feline Lower Urinary Tract Disease (FLUTD)
~
**
According to Vet... he's having Feline Lower Urinary Tract Disease (FLUTD) caused by struvite uroliths or urethral plugs, calcium oxalate uroliths, or feline idiopathic cystitis (FIC). FLUTD is often associated with inflammation of the urinary bladder and urethra. It is characterized by clinical signs such as urinating outside the litter box, frequent attempts to urinate, and/or straining to urinate. sian Abu....
**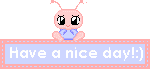 LET'S CHILL AND HAVE A DRINK!!
I'M A MAY GIRL!!