~maksudnyer...mencepatkan kelajuan Internet...~
what we need to do is to release the 20% bandwidth that Windows has been saved for all these time...
these are all the steps...
1. Click to the "START" menu.
2. Click "RUN" and type
gpedit.msc
then click "OK"
3. then,double click "Computer Configuration"
3. double click "Administrative Templates"
4. double click "Network"
5. double click "QoS Packet Scheduler"
6. double click "Limit reservable bandwidth"
7. finally choose "Enable" and set it to
"Bandwidth limit (%): 0"
;
8. end it with clicking the "APPLY" and "OK"
VOILA....ur internet speed is now faster than before....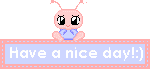 LET'S CHILL AND HAVE A DRINK!!
I'M A MAY GIRL!!