someone that we loved has been gone today...
someone that we loved so much....
he has been our sweetheart...small friend and company...
he is part of our family...
he has been my sister's 'teman tidur' for the past 2 years....
we surely missed him so much...
oops...is it right? is it a "SOMEONE"?
actually, its ABU...our beloved cat...
I hv mention about him at
this entry
...
about him having the disease called Feline Lower Urinary Tract Disease....
he finally passed away this afternoon at 4:30pm....
I was playing my mobile game...in my room...
when suddenly Kila, my sister entered the room with tears and worried face...
"Kak...jom tgk Abu...he's become weaker..."
when we saw him, he is looking so weak...
dia bernafas dgn sgt kuat n tersekat2.... mcm sakit sgt tarik every nafas yg dia ada...
his mouth dh ternganga...bdn dh kejang... n he looks even skinnier than be4...
and of course, my sister was crying like mad beside me...
I was panic and tried to talk to him ... as if he understand me la kan...
he's become weaker and weaker... donno what to do...just let him be...
10mins later, he took his last breath...
and when I tried to hold him. I can see his eyes no longer as before...
no eyes anymore...only a clear jelly without the black eye...
kejang n terkulai....layu....sayu...
n my sis started to cried and cried....
ayah sahkan....Abu is no longer with us anymore...
I wonder, ubat apakah yg doktor2 kt hospital tu bg smpi ABU mati ni?
bodoh rrr.... kesian Abu...he is suffering and getting more suffered after the visit to the hospital...
what else we can do...we have to buried him ASAP...
Cielo has been so curious, what happen to his son...she even moaning a bit before started to remember that she hasn't eaten anything before...
~MAY ALLAH TAKE CARE OF HIM...... we always love u, ABU.....~
~My eyes has turn red...my nose as usual....become reddier..hehehe... ~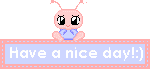 LET'S CHILL AND HAVE A DRINK!!
I'M A MAY GIRL!!