How do you feel when suddenly one day, u met someone that will ~
menggoncang hatimu
~ again, and u cannot allow that as u are engaged and will getting married soon??
What will you do, if he's beeen contacting u since the day u bump with him accidentally and begging u too ~
layan
~ him as a friend again? oh...forgot to tell, and...
HE IS MARRIED WITH ONE SON??
and he said, just like other scumbag, idiot guys will said when they intend to try-test-market,
i'm not very happy with her...i cant forget u... u r some kind of special person to me....bla...bla...blaaa....
.. and all those bullshits thing!!
Ironic isn't it??
Ok, let me tell u the ironic story...
Last Saturday (the week before last week)...
I bump with someone that I hv known years a go...
someone that once shared a bit of sweet memories with me...
someone that enjoying all of our hobbies that incidentally, SAME....
someone that have loved me so much and make me happy at a certain time of period...
someone that taught me, how to be independent and not letting people making fool of me...
and also someone that at the end, he's the one who make fool of me...
it was a surprise seeing him there...
actually, i'm at the zoo negara with kak Maria, Ika, Akim n bibik...
we were riding the taxi train...(ye ker itew namanyer??)
and when the train stopped at one of the station,
i saw this one guy, wearing a blue Nike t-shirt, a Nike cap and a pair of jeans pushing a baby stroller and beside him is a lady that I wont describe here..of course she is his wife...
and mata yg gatal ini keep staring to the guy... he looks familiar...she as well...but where??
suddenly when the guy tertoleh scr tiber2 to me...
OMG...OMG!!!
its him....dan dikala itew barulah ku menyesal kerana gatal2 merenung lelaki itew...
oh damn it...of course I know him.... of course he looks familiar...
he's wearing a shirt and a cap that I gave him masa kami msh an item....
what the heck!!!he still wear that thing eventhough he's married? giller aper!!!
and the incident after that....i dont want to tell here because it is so stupid okey...
I was running away from him, trying to avoid and hide myself from a guy that keep searching for me...so sgt bodosss....
and maybe Allah sengaja nk test hamba-nya...
two days later, we met again kt Isetan KLCC, while I'm browsing for a Guess handbag.
he suddenly tegur me....
He: hye babe...fancy meeting u here...
~I was blush n shocked....~
He:browsing handbag ker? tak abis2 dgn handbags collection eh...
Me: erk...biarlah...dh mmg all-time-favourite hobby... btw, what are u doing here?
He: oh...sajer jer...round2...mcm dpt agak akan jumpa u kat sini...jodoh kot...
Me: eeeeee....takder maknanyer okey...jgn perasan!!!
~he laugh loudly, as usual he will do whenever I jwb dia punyer statement...dulu lar....~
He: takderla...joke...urm, I ada hal kt Petronas tadi. u waper kt sini? tak keje ker? ponteng eh?
Me: eee....tolong sket... I pon ada keje tau...in fact, I tgh wat keje la ni...u yg kacau I... k lar...got to go...ada keje lg... (itew adalah statement bohong sunat dimana I sbnrnya mmg tgh ponteng jap, melencong msk ISETAN lps pg post office!!but, why must I tell him, rite?)
He: eh..eh...nantilah dulu...bukan slalu dpt jumper...apasal nk lari jer dr I ni??takot I mkn eh?
~and he always laugh sweetly.... ooops...stop it, gurl!! ini sudah lebey!!~
N tak perlulah brpanjang lebar...disebabkan bos tak masuk ofis arini, dgn sendirinya, berlabuhla diri ini disitu...berjalan2 mencarik handbag yg sesuwei utk konvo...smbl chit-chatting dgn dia...
and I hv decided that he is :
- totally a jerk scumbag!!
- stupid idiot guy!!!
- sgt manis yer kater2...tp diri ni tidak bodoss sama skali, okeh....
he told me those ayat2 standard seorang playboy karatt...
- I missed you..missed all our sweet memories...
- I regret tak stick dgn u.... klu tak mesti best bla...bla...blaa...(the rest is secret!!)
- I tak berapa happy with her... she's not like u...wayyy different from you...
...SHE'S WAYYYYY DIFFERENT FROM ME????.....
what bullshit is that??? tergamak mengutuk isteri sendiri?? that supposed to make me sympathy with u?? and then agree to marry u??
I'm not wrong by labelling U a scumbag, idiot, tolol man okey....
klu kau tak happy dgn dia...
apa kejadahnya boleh keluar seorang hamba allah dr perot perempuan yg kau tak happy dgn dia tu?
of course I a wayyyyyy different from her!! I know that...
I am wayyyyy better than her.... wayyyy educated than her.....
thats why I am wayyyyyyyyy out from ur life!!
I'm not stupid like your kampung-girl wifey okey.... (with hope that u read this!!)
ahhhh...y la I must jumper org sebegini yer.... sgt memeritkn otak okey...
sungguh tak paham bhs bila kupinta utk berhenti meng-sms n mendail no teponku!!
oh ya, jgn slh sangka yer...he still keeps my number yg mmg tak pernah bertukar since dulu!!
I wont give my phone number if I had another one, okey...
I'm not dendam dgn dia...
in fact, I sepatutnyer dendam dgn mak n wife dia kerana memisahkan kami....
tp...itew adalah cerita dulu, okey.... I hv totally forgot about it...
and thanks to him, dgn memunculkan dirinya semula,
aku jd dendam dgn mak dia n perempuan itew smuler...!!!keji kan??
tp kini...stlh difikir2...semua tu dh lamer....dh basik la wey....
i hv my enchek fiancee terchenta...
wpun slalu bergaduh...I love him with all my heart...
wpun byk perbezaan, he is meant to be with me...
not some idiot n tak tahu beruntung punya jantan!!!
well....those are luahan perasaan yg takder kena mengena dgn yg idup mahupun yg mati...
I hope he can read this as he also love to blog...
I hope, YOU (you know who u are!!) realize, that I takkan termakan cerita sedih u...
I takkan terpengaruh dgn rayuan u utk membalas dendam...
Allah mmg nk kita tidak bersama,
(btl ker ayat itew???)
as HE doesnt want me to make fool of myself by being with u..
I want u to know...I'm damn happy with my life know....
All those words that I hv been said dolu2... let it past... its not important anymore....
I wont take a revenge to ur mum n the women who took away u from me...
I wont be with u just for the sake of our childish promises...
let me go...let me go for the sake of ur family, ur mum, ur wife and ur little son...
let me be ME... let me happy with my life...with my future husband...
yes...I know she is wayyyyyy different from me....
its ur job to make her be like what u want her to be...
I dont care if u want to change her to be like me...
(if possible ler... boley ker? muahahaha)
let me just happy with my life...
leave me alone!!! biawak idup betul lar!!!!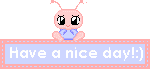 LET'S CHILL AND HAVE A DRINK!!
I'M A MAY GIRL!!