hari ini imah came to my house....
we went to main2 air kat sg kemensah...and have a girl talk....
talk abt my problems with enchek fiancee and her love dilemma...
girls kan...huhuhuhuhu...
so, bila dh bercerita, mestilah bertukar2 pendapat kn...
maka barulah nk sedar diri...apa perangai2 negatif yg ada pada diri ini...
from Imah..
I am a very2 stubborn person... whatever I said Yes..must always a YES... and NO must stick to NO....
and many more that I wouldnt mention here...
so, just now...I just received this email...it more or less describe who i am...
WANITA BERSIFAT ANGIN



Gemini (22 Mei-21 Jun)

Libra (

24 September-23

Oktober)
Aquarius (21 Januari-19 Februari)

-Berterus terang,berminda aktif dan gemar mencari kepelbagaian dalam setiap aspek kehidupan.
-Berfikiran terbuka,mempunyai daya imaginasi dan inovatif,bagi mereka segalanya boleh dicapai.
-Bergaya,tenang dan tidak cerewet serta mempunyai keinginan semulajadi untuk mengamalkan sikap diplomasi dan saling bekerjasama bersungguh- sungguh.
-Sanggup mengorbankan kehendak atau idea mereka sendiri demi mencapai keharmonian dan mengelakkan perselisihan atau konflik.
-Sentiasa gigih untuk mendapatkan cinta yang terunggul,untuk berkonfrantasi.
-Kurang cenderung untuk menyampaikan perasaan sebenar yang terpendam dalam hati mereka.
-Dikenali dan diingati kerana sifat romantis dan manja.
i'm not sure if its really suits me.... ok, maybe 70% kut....but, for real...am i that CALM? tidak cerewet? my mum used to tell me that I'm a fussy freak....and definitely not diplomatic at least to my siblings....
gigih untuk mendapatkn cinta? eyeeeewwwwww...thats definitely not true!! Am I?
NOOOOOOO.....i can live without love, I guess....
I love myself....thats enough for me...huhuhuhu...so selfish ek???
and the second last list is definitely a YES!! Enchek fiancee slalu bengang dgn sikapku yg satu itew...tak suka bgtau klu sakit hati dgn dia...pendam jer smpi bernanah...huhuhuhu...
urm....maybe I have to find deeper the TRUTH ABOUT ME....
THE REAL ME....
WHO AM I....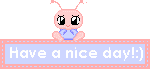 LET'S CHILL AND HAVE A DRINK!!
I'M A MAY GIRL!!