since I was 18th...I always wishes that one day, I will be able to be the breadfinder of my family..
mahu membalas jasa ibu & ayah yg susah payah membesarkan aku...
dan kini, aku sudah bekerja...
sedikit demi sedikit, aku sudah mula menjalankan tanggungjawabku sebg anak sulung...
dan kerana kesedaran itulah..aku kini sudah pun membayar Zakat pertamaku...
huhuhhuu...itupun luckily I saw this middle-age men sitting in the corner of KLCC ground floor...
he looks really weird with songkok n vest... reading a small book and sitting behind a large white table with sum informations tag - Bayarlah Zakat Fitrah Anda Sebelum Terlambat.
then I was just realized... I should pay that if I want to be the breadfinder for my precious family..
so, I went to the man and tell him my good intention...
and...its my turn now to pay the zakat, dad....
and here is the prove..
~lepas ni apa plak yer???
oh ya...yesterday, me n enchek fiancee berbuka puasa dgn Awien & K-rul di De' Selat Ikan Bakar, Pelabuhan Klang. melantak habis2an... sgt la sedap hingga daku mengigit2 tulang2 ikan itu...huhuhu..
kitorang mkn mcm2...selain kuih muih yg dihidangkan percuma...
ada.... - ikan kerapu masak 3 rasa
(sgt sedap n rangup!!3 rasa-nya mmg sgt2 menjadi...cukup rasa!)
- lala masak halia
(boleh la even tho I'm not a big fan of lala...susah nk kopek!! nasib baik enchek

fiancee tlg kopekkan..huhuhu...)
- sotong masak tepung
(superrr delicious...yummy...rangup n sgt purrr-fect la!!)
- tomyam campur
(sgt setaap juger..ada umphh!!)
- sayur kailan ikan masin
- air tembikai laici yg sgt manis n yummy....
pendek kata...sumernyer sgt setapp lar.... definitely will go for a second time or more...huhhuh
dlm bbyk2 kitorang dh melantak tu...mmg sgt murah yer selepas mahu membayarnya...
restoran itu siap ada tpt karaoke lg...
tp we all tak melalak lar...bulan poser kn...
org pg terawikh..kita nk melalak lar??
so..below are some of the photos...tak sempat amik byk coz tak sbr2 n khusyuk sgt melantak...huhuhu..
ikan kerapu 3 rasa n sotong goreng tepung yg YUMMY!!
sweet couple..Awien & Krul

(jgn gado2 yer...!!)
erk...tak sbr2 nk minum air yg setaap tu yer??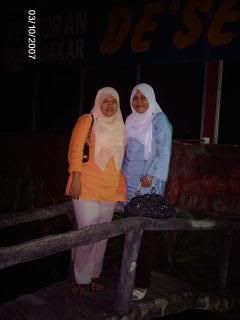 ~mlm...tak nmpk kecantikan tpt tu~